Gloves on the Run



CAN. Airdate:

January 1st, 2011

U.S. Airdate:

July 8th, 2011

Producer(s)

Micheal Decsi

Director(s)

Joey So

Storyboard Artist(s)

No information

Writer(s)

No information

Antogonist(s)

Xox's Gloves

Previous

Next:
Eric finds gloves that take control of his body and go on a crime spree in Splitsboro and Trevor wears an old smelly reetaner he found in the lost and found were Eric found the gloves.
The kitten hurting Eric in the end is a reference to the YTV show, Kid vs. Kat.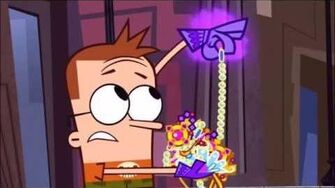 Ad blocker interference detected!
Wikia is a free-to-use site that makes money from advertising. We have a modified experience for viewers using ad blockers

Wikia is not accessible if you've made further modifications. Remove the custom ad blocker rule(s) and the page will load as expected.