Vana challenges her sister.
Main Roles
Edit
Suporting Roles
Edit
Minor Roles
Edit
In This episode Vana reveals that She has an older sister who is superheroine
Her relationship between Glama's Sisters, has always been tense because Vana is humiliated by Savannah as the weaker, which explains her possibly attitude
Kitty tells that Hullaballo is a ritual that a super family must choose the younger brother or younger sister as his or her Sidekick.
During the End Credits in the cast, Savannah's name is written as "Savanah"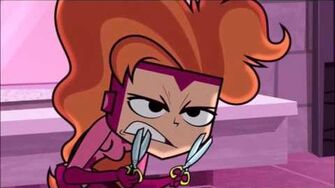 Ad blocker interference detected!
Wikia is a free-to-use site that makes money from advertising. We have a modified experience for viewers using ad blockers

Wikia is not accessible if you've made further modifications. Remove the custom ad blocker rule(s) and the page will load as expected.