Identity Crisis

107-7a

CAN. Airdate

October 9th, 2010

USA. Airdate

June 21st, 2011

Producer(s)

Michael Decsi

Director(s)

Joey So

Storyboard Artist(s)

Paul Watling

Writer(s)

Antogonist(s)

None

Previous:

Next:
Eric has to choose a sidekick name but he doesn't know how to call himself. While watching a Maxum Man video, he finds out that Maxum Man wanted to call him Maxum Boy. After hearing that, Eric thinks that the name is lame and decides to make up another one. Trevor suggest Kid Ruthless, but what he doesn't know is that there already is a Kid Ruthless.
"You're going complete this NOW!"
This article or section is incomplete.
Some information is missing regarding to the subject. Help Sidekick Wiki by finishing the article. Remove this template when finished.
Vana Glama/Galacta Lass
Trevor Troublemeyer/Sideburn Muttonchops
Eric Needles/Fake Kid Ruthless
Kitty Ko/Bride of Eric/Aztec Girl
Kid Ruthless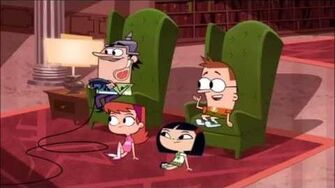 Ad blocker interference detected!
Wikia is a free-to-use site that makes money from advertising. We have a modified experience for viewers using ad blockers

Wikia is not accessible if you've made further modifications. Remove the custom ad blocker rule(s) and the page will load as expected.