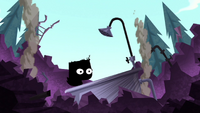 Heat Ray vision. X-Ray vision. This heroic stuff is kinda tricky.
This page needs cleanup.
This page needs maitenance. You can help by improving the page's grammar and sentence structure or fix the article layout to bring it to a higher standard of article quality.
See the Manual of Style for how articles should be organized. Remove this template when finished.
Ron Pardo is a Canadian actor, voice artist and impressionist, known for playing a wide variety of characters on the television show History Bites, voicing Cap'n Turbot on PAW Patrol and Quest and Graer on World of Quest. He was raised in Pardoville, Ontario, a small farming hamlet near Chatham and went to school in nearby Blenheim. He later studied radio and television at Ryerson University in Toronto, followed by working on-air and as a copywriter at CFCO Radio in Chatham. Pardo later attended the University of Western Ontario in London to study education, and worked as a teacher for a few years in Cambridge, Ontario.
Ad blocker interference detected!
Wikia is a free-to-use site that makes money from advertising. We have a modified experience for viewers using ad blockers

Wikia is not accessible if you've made further modifications. Remove the custom ad blocker rule(s) and the page will load as expected.