The Sidekick Wiki
Welcome to the Sidekick Wiki! If you want an international knowledge-base for this epic Canadian animation program, you've found the place! Join the talk. Be an active part of the community. Most of all, have fun and share your love for this amazing show. 👋
Be wary that IP addresses are called "civilians", users are called "sidekicks" and admins are called "superheroes" to suit the motif of the topic.
Current Stats:
16,519 edits and 280 pages! Phew!
About the show
Sidekick is a show set in the world of superheroes and villains, where the only thing Eric Needles desires is to be a great sidekick and have an awesome adventures. He gets his chance when he is adopted by world renowned superhero Maxum Man. Unfortunately, Maxum Man does a disappearing act leaving only Eric and his guardian Maxum Brain to be in charge of making sure the world thinks he is still on duty. 📺
Don't know where to start for a civilian or sidekick?
Superheroes (Administrators)
If you need help, feel free to tell us! 💁
Featured Article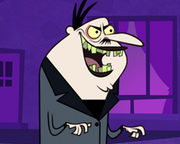 Master Xox is the main antagonist of Sidekick, because he is the most evil villain in Splitsboro and the arch-enemy of Maxum Man, who all the protagonists are affiliated with. His alter ego is Mr. Troublemeyer. 😈
Blog Posts
Wikia is constantly making better things and better things, one in particular are portable infoboxes. So what are these things? Well, previous infobox layoutss are built with tables and divs, which wikia says are broken when viewed on mobile. As an effort to optimize the infobox for both desktop and…

Read more >

I found a cool trick on Wikia for superheroes (or optionally anybody) to use to highlight their usernames.

Simply copy this into the wiki's MediaWiki:Wikia.css


Credits to: http://dev.wikia.com/wiki/Admins_%26_Bureaucrats_Highlight

Read more >

The Manual of Style was created! Now there are guidelines for editing and it helps support the wikia's proper article structure. However, it is a prototype and is still in development, so superheroes, make any adjustments if you wish.

Please discuss any ideas on the discussion page of the Manual of …

Read more >
Did you know that..
In The Amazing Super Chores, Eric said the quote "I am ironing man!!!", this is a reference to the Marvel superhero, Iron Man.
Wiki Pledge
I pledge to my wiki, the Sidekick Wiki,
to be super-friendly, super-honesty and super loyal.
I promise that I will take responsibility for my wiki with with super-care.
And to defend it from any supervillains.
So help me, Maxum Man.
The Sidekicks' YouTube Channels
Newest Updates
Scripts are coming soon. Please help us in adding the scripts to the episodes.
Due to inactivity of the wiki, its time we say farewell to our friend, Roberto a.k.a. Crossovers.
Wiki pledge added.
Theme of the wikia changed to red, white and green in time for Super Christmas and other holidays in December.
Users are now being called different titles to suit the topic! Ask on the forums or a superhero.
Who is your favorite character?
Ad blocker interference detected!
Wikia is a free-to-use site that makes money from advertising. We have a modified experience for viewers using ad blockers

Wikia is not accessible if you've made further modifications. Remove the custom ad blocker rule(s) and the page will load as expected.