Suit of Harms

118-18a

CAN. Airdate

December 25th, 2010

USA. Airdate

July 7th, 2011

Producer(s)

Micheal Decsi

Director(s)

Joey So

Storyboard Artist(s)

No information

Writer(s)

No information

Antogonist(s)

Previous:

Paired with:
A safety expert makes the sidekicks to wear safety suits, which ends up immobilizing them. The safety expert is actually XOX, who seeks to control Maxum Mutt.
Pamplemoose
Master XOX
Maxum Mutt
The name is a pun off the term "Coat of Arms".
A Funpak episode is included in this episode.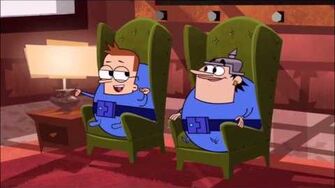 Ad blocker interference detected!
Wikia is a free-to-use site that makes money from advertising. We have a modified experience for viewers using ad blockers

Wikia is not accessible if you've made further modifications. Remove the custom ad blocker rule(s) and the page will load as expected.